Consultancy and Expertise
Whether your objectives are organisational e.g. growth, efficiency, change etc. or more technologically driven e.g. security, mobility, virtualization etc., our first class consultancy and engineering resources can help you succeed across a large range of technologies, disciplines and vendors. As a Trinito client you will also benefit from our 'Thought Path' approach to consultancy which delivers robust solutions by actively drawing upon the wide breadth of expertise contained within our 'Knowledge Network'.
Gain access to a greater depth of expertise
Our consultancy and engineering capabilities cover all the IT categories within our 'Knowledge Network' (as illustrated below) providing extensive support for the many specialist concerns and technologies within these groups. They also play an integral part in delivering our 360° service portfolio and that of our support and continuity offering. We are therefore confident of being able to assist you with all your IT consulting requirements in every aspect of your appraisal, planning, design, implementation, support and continuity requirements.
360° Solutions & Services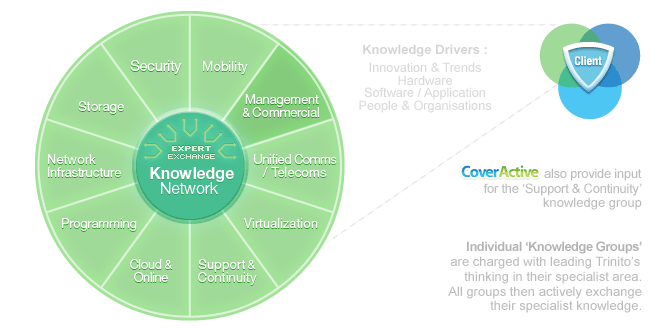 The network infrastructure category (as illustrated) is one of the most active from an engineering perspective with installations, reconfigurations and
support
based fixes accounting for most of their work. There is also an increasing demand for programmes to optimise and accelerate existing infrastructure as technologies evolve and organisations demand a greater return on their assets. So whatever your infrastructural needs may be (switching, routing or unified comms etc.) you can rest assured that our engineering team have the experience and
vendor certification
necessary to get your network working to its full potential.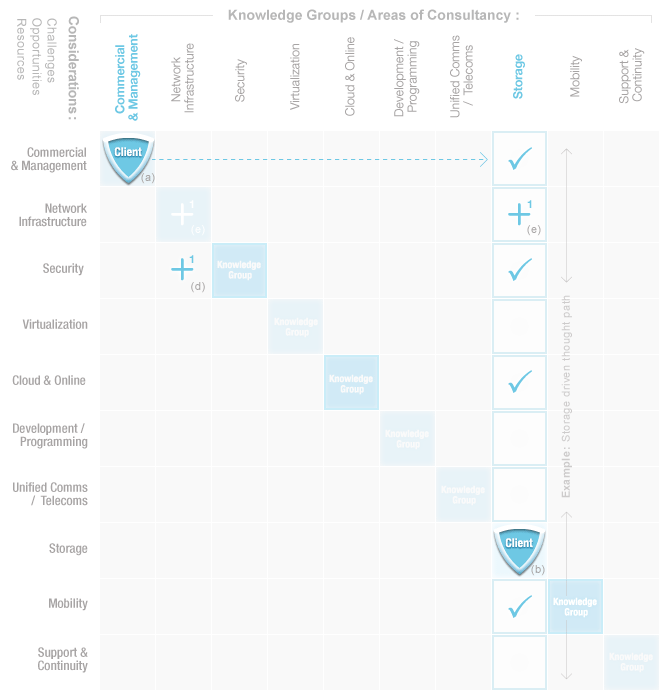 Achieving more considered and robust solutions
The collaborative opportunities that were fostered by forming our 'Knowledge Network' quickly influenced our approach to consultancy. Where deemed appropriate consultants across all of our consulting groups began exchanging expertise on active projects even if their specialism wasn't directly required. Their collective input sometimes sited other issues to address but equally identified efficiencies and opportunities that could be attained. Providing this extra insight to our clients proved popular as it created value in other areas and meant the end solution was more robust and considered. It was for exactly this reason that we formalised the approach and now use it within the majority of our projects. While we only consider this to be good consulting practice and not exactly revolutionary, the approach does offer a valuable structure for achieving greater consistency and also helps create a more robust output.