Gain from our knowledge advantage
Today's rapidly evolving technology is unquestionably more interconnected and interdependent than ever before. In recognising this experts must now actively think beyond their own technological expertise and robustly consider how things fit and work together in the bigger picture. Only by thinking this way can they ensure their decision making and recommendations are as informed and considered as necessary.
To rise to the challenge Trinito has created our own internal 'Knowledge Network' where every team member (consulting, engineering etc.) on top of their own role and expertise also serves as a member of a specialist 'knowledge group' (as detailed below). The purpose behind each group is to develop and lead Trinito's thinking in their specialist area of technology, proactively share their knowledge with every member of the Trinito team and also provide specialist input to help ensure all solutions and recommendations are as robust as possible in their thinking.
A broad range of expertise
Our 'Knowledge Network' as depicted below is organised into eight separate knowledge groups (and also reflects the organisation of our consulting groups) with each group focusing on a specific area of technology and its many specialist concerns. Also included in the network are two primarily non-technology focused groups to help drive the thinking from our clients' perspective and reflect the full breadth of Trinito's consultancy and service offerings. These two non-technology groups are 'Management & Commercial' focusing on changing organisational and commercial practices and finally provision for 'Support & Continuity'.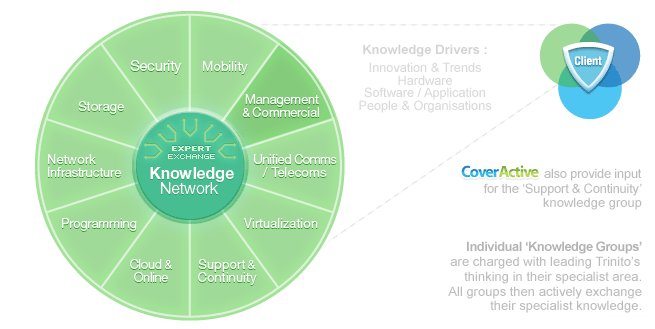 Benefiting from our 'Knowledge Network'
Regular 'Expert Exchange' forums have a huge impact on the success of our Knowledge Network and also perhaps more importantly, on what Trinito as an organisation is able to offer our clients. These sessions are designed to bring together all the knowledge groups to share their specialist expertise and report back on innovation, trends and industry opinion. The exchange is not only used to broaden awareness and guide training requirements but also as a way to actively challenge new thinking and technology as doing so ensures it has been robustly considered before being adopted and subsequently recommended to our clients.
The exchange sessions also provide a very important opportunity for our client relationship team to broaden their own knowledge and identify the individual expertise to draw upon to better assist their clients. When combined with input from the 'Management & Commercial' group the relationship team are then better equipped to understand the commercial and organisational merits of each individual technology and as such more grounded in assisting their clients in a pragmatic and practical way. As our relationship team are directly supported by our consultants and engineers, it means clients benefit from their expertise at every opportunity; even if they are not undertaking a formal consultancy project.
Knowledge groups also provide the first assessment of any new offering from Trinito's primary vendors as well as for other vendors who we haven't supported before and those that we work with less regularly. We then use these assessments, together with input from the 'Expert Exchange' and tests by our technical direction team, to define what we consider 'best in class' technology as this then drives common standards and creates various efficiencies that we can extend to our clients.
A commercial focus with extensive sector experience
The inclusion of the 'Management & Commercial' knowledge group with its (non-technology) management consultancy team and our commitment to put people before technology are two good examples of how commercial and organisational thinking drive our technology solutions.
Our experience of working with clients of varying size; from multinationals and government departments, to small companies and individual entrepreneurs across a wide range of sectors, gives us a first-hand appreciation of the various challenges and opportunities faced as well those unique to a particular sector or scale of organisation. However, regardless of the noted benefits that this experience brings, we're never blinkered by our previous experience and instead embrace the individuality of every organisation that we work with.
Catering for such a wide array of people and organisations means our offering has to be not only scalable but equally flexible and extremely cost conscious. In achieving this we are able to deliver the same sense of value to everyone we support.
Other relevant links