Your dedicated support partner
CoverActive™ is Trinito's specialist support and maintenance solution offering a comprehensive range of pre-packaged, managed and co-managed services to support everything from individual devices to large organisations with networks spanning the globe. We also offer a range of continuity, insurance and warranty services to offer you a more complete support solution.
There are two distinct forms of the CoverActive service. The first 'Core' enables the support of devices individually via a pre-packaged set of configurable service options. The other 'Partner +' offers a wide range of fully customisable services to support and maintain multiple devices, networks or even the entire IT requirements of an organisation.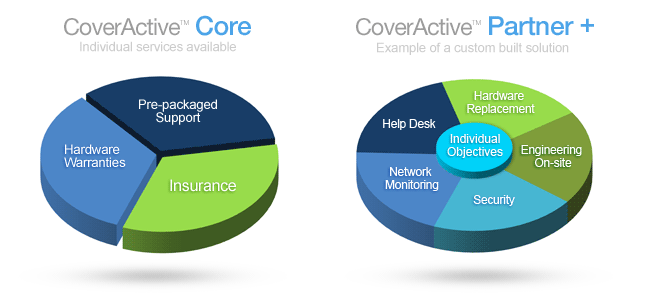 What type of CoverActive solution is best for me?
Choosing the right type of CoverActive service will largely depend on the technology you use, the makeup of your organisation and of course your objectives. Please look at the overviews for both CoverActive Core and Partner + to better understand how we can help or alternately talk to a member of the CoverActive team who will be happy to advise you on all the solutions matching your individual requirements.
Specialist insurance
CoverActive's support and continuity offering is complemented by a range of specialist insurance services. By working closely with specialist brokers we are able offer insurance policies for virtually every aspect of your organisation's IT activities. So if you're looking for a policy to cover network downtime, IT equipment used off site or high value devices that your current policy would not adequately cover; we're sure we can help you with a quote.
CoverActive warranties
If you don't require any of the advance support options included in CA Core we can instead offer you the security of an extended warranty for your device, giving you advanced hardware replacement for broken devices*. You can buy CoverActive warranties for Cisco and Juniper devices by using our support calculator.
Independent and impartial
CoverActive is fully integrated into Trinito's 360° service offering but equally importantly has its own independence and management autonomy. The logic behind this is to actively prevent any potential for a conflict of interest arising between Trinito's various consultancy and sales divisions and the impartiality required by CoverActive to deliver the support function to all its clients.
Feedback from new clients who came to us after suspecting their original support provider was unethically using support recommendations to sell new hardware and software made us aware that we need to do more to safeguard this ever happening at Trinito.
After all, our own customer relationship policy is to develop long-term relationships by always acting in the best long-term interest of a client; even if it is to the detriment of profitability in the short-term. So to deliver on this promise and go further to strengthen and protect the objectivity of CoverActive, we have formally separated it from all other Trinito activities.
Our customers tell us it gives them peace of mind as well as welcoming the impartial technical sounding board that the CoverActive support team bring to their organisations.
Working with other support providers
CoverActive's independent setup has also helped to make it a more viable solution for other providers of support wanting to supplement their offering and provide support in specialist areas beyond their internal capabilities. To embrace these opportunities we offer a strict confidentiality agreement with a non-compete policy to protect their existing relationships.
Other relevant links